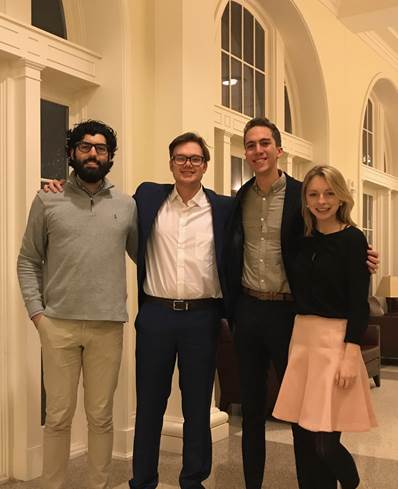 2018 MIC Officers
From Left: Abraham Haji '20, Nathan Rakos '19, Daniel Herrera '19, Katherine Kennedy '18
Who We Are
The Mason Investment Fund is an undergraduate investment fund run by members of the Mason Investment Club at William & Mary. The Fund took control of $20,000 in 2002 as part of a substantial donation from alumna Aubrey Mason. Since then, this donation has served as the initial capital used to start and grow the Fund, and as of January 2019, it stands at $40,000. The Fund provides an excellent opportunity for both experienced and beginning investors to become involved in the active management of a sizable investment fund. Members attend weekly meetings which consist of a market update, portfolio review and stock or educational presentations. The principal motive is to provide students the opportunity to engage in equity research and test market strategies, enhancing their educational experience while simultaneously driving value. Students thus gain hands-on experience in developing their knowledge of security research, valuation techniques and portfolio management.
Professor Jim Haltiner serves as the club's faculty advisor.
Our History
The Mason Investment Fund had been very successful over the years, growing its membership to support a fund structure consisting of Portfolio Managers, Senior Analysts, Junior Analysts and General Member levels. The Fund implemented a detailed investment process, consisting of idea generation and initial investment overview, development of detailed investment thesis and consideration of investment on overall portfolio risk/return characteristics.
The Fund has even influenced the creation and innovation of the curriculum at William & Mary by proposing and developing a Distinguish Portfolio Management class called Student Managed Investment Fund (SMIF). SMIF manages over $100,000 and requires more intense preparation and in-depth proposals for potential investment.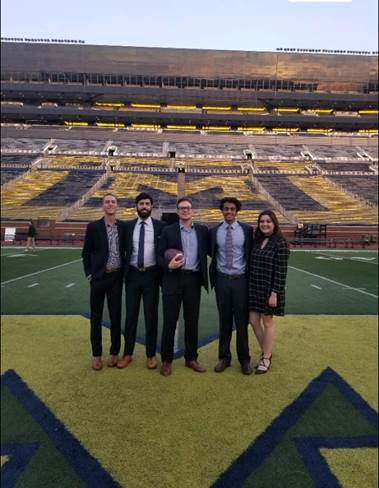 Members of the 2018 Michigan Investment Conference Team
From Left: Daniel Herrera, Abraham Haji, Nathan Rakos, Rumit Patel, Alicia Draper
WILLIAM COAKLEY '21
President / Portfolio Manager
Experience:
2020 – Incoming Investment Banking Summer Analyst, Sawaya Partners
2019 – Investment Banking Summer Analyst, Marriott & Co.
2018 – Financial Analyst Intern, Aeroseal Windows & Storefront
Email William: wwcoakley@email.wm.edu
ALHASSAN OUF '21
Portfolio Manager
Experience:
2020 – Incoming Investment Banking Summer Analyst, Robert W. Baird & Co.
2019 – Investment Banking Summer Analyst, Boxwood Partners, LLC
2019 – Spring Analyst, Stone Pier Capital Advisors, LP
MICHAEL FAIRBANKS '21
Portfolio Manager
Experience:
2020: Incoming Equity Research Summer Analyst, J.P. Morgan
2019: Summer Analyst, Stock Stories Podcast
2018: Founder, Prime CPR, LLC
CHARLES GABRIK '22
Portfolio Manager
Experience:
2019 – Summer Analyst, RBC Wealth Management
2018 – Summer Intern, First Data Corporation