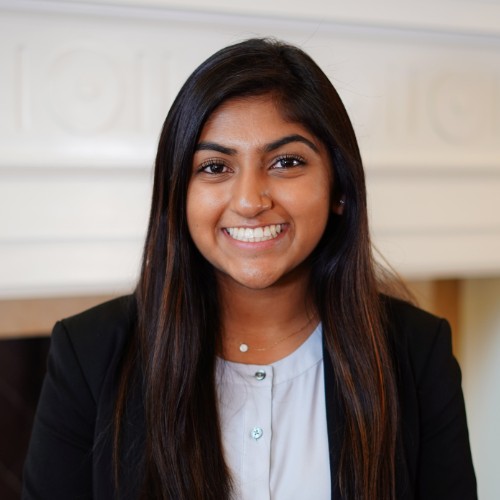 Majors: Finance & Economics
Current Internship: I am currently interning at NRV as a Venture Capital Spring Analyst. At NRV, I've had the opportunity to evaluate many investment opportunities as well as prepare valuation analyses for the fund's portfolio companies. This upcoming summer, I will be a Summer Intensive Program Scholar at Girls who Invest.
How has the Boehly Center impacted you?
My first interaction with the Boehly Center was my freshman fall when I joined Smart Woman Securities. This was an influential first step in gaining exposure to finance because I was able to learn about financial basics, present a stock pitch, and meet upperclassmen who had experience in finance, all before actually taking any finance classes at the business school. Since then, I have had the opportunity to network with alumni at DoG Street to Wall Street and meet other finance alumni through the Boehly Center's network. More recently, I have become a member of the Women's Stock Pitch Team as well as a Finance Academy Vice President. I cannot thank the Boehly Center enough for providing me a supportive environment where I can further my professional and personal development, in addition to allowing me to explore my various finance interests through seminars and workshops!
Careers in Finance Podcast

Episode 7: December 22, 2020 Today on the show, host Jad Howell welcomes Professor Julie…

Episode 6: December 15, 2020 Today, Jad welcomes back Patrice Lincoln, Director of Graduate Career…

Episode 5: December 8, 2020 Today on the show, Jad Howell welcomes Patrice Lincoln, Director…